Getting Married
At ChiChi Bites, we take great pride in our ability to create exceptional, stunning and imaginative food occasions. And as each wedding is unique, we make sure that everything we do is tailored to your exact requirements.
We can organise and supply it all. Marquees, staff, furniture, linen, glass and tableware, wine, flowers, lighting (both indoor and outdoor), music and DJ, portable toilets and so much more. We will even visit the venue before your big day to get a 'feel' for the space. We will help you as much or as little as you wish.
We are most suited to private land and gardens for marquees, self-catering barns or village, church and community halls. We serve food in a family style service – bowls and platters coming to each table – and also buffet style. There are menus on request with vegan and plant-based choices too. We are always open to suggestions and would love to hear your own twist on suggested menus as these will be closer to our heart and yours on your special day.
We have a highly popular range of late-night tipsy food options for your guests to enjoy towards the end of the evening. Street-food style is also available.
Let ChiChi Bites help create a truly unforgettable celebration while you relax and enjoy the most important day of your lives.
Preferred supplier to The Oak Tree Barn Wedding Venue
Oak Tree Barn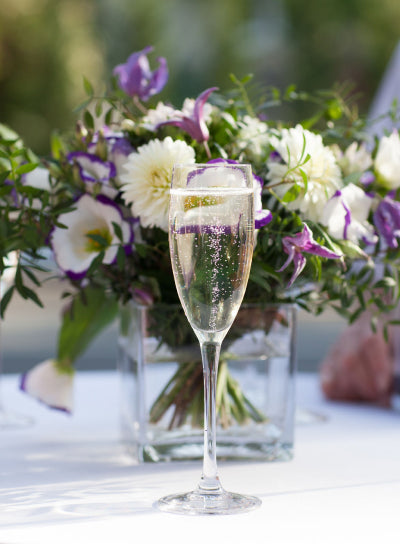 " We have such fond memories from the whole day and know that Miranda and her team played such a vital role in making it run so smoothly and be so special ".
Jess & Tim Woods - Mid Summer Wedding
Private Parties & Socially Distanced Gatherings
No special party is complete without delicious and memorable food. Whether you're planning a statement birthday party, a special anniversary, a christening, Christmas or summer party, a cocktail party or a sumptuous picnic for a few special friends, you need outstanding food to leave a lasting impression.
Whatever the occasion, large or small, ChiChi Bites can arrange everything from marquees, professional staff, furniture and linen, crockery and glassware, music and DJ, flower arrangements and (almost) anything else you need to make your party one to remember!
We offer canapes and bowl food for standing gatherings, full table service or buffet-style for larger, seated gatherings or a combination. We have a selection of menus and food suggestions, including vegan and plant-based, but would love to hear and incorporate your ideas. It is, after all, your special event.
Summer 2023 Menu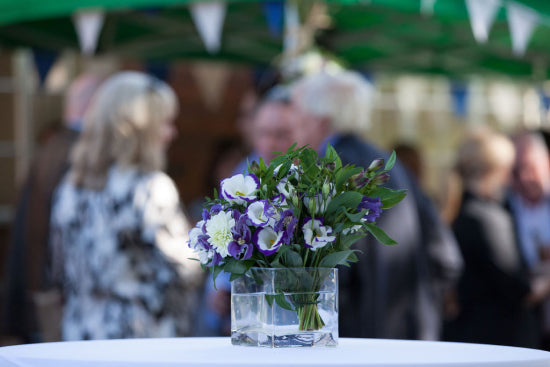 " The freshness of the ingredients, variety of dishes from the starters to the mains and the desserts were amazing. We were delighted with the results and had a delicious meal that would easily have served 4 people and that was totally rememberable.

I would therefore thoroughly recommend Miranda and Chi Chi Bites to provide that unique touch for any special event that you may wish to plan. "
Lucy Edwards
Minuteman Press
Corporate Events
We know your time is valuable and catering for a corporate event might be the last thing on your to-do list. But looking after your attendees is vital! So whether you're planning an online or socially distanced event at the moment, or booking a future charity event, product launch or conference, you can rely on ChiChi Bites to arrange the all-important catering, freeing you up to focus on what you do best.
For online or socially distanced events without in-house catering, we offer three different chilled lunchboxes. Delivered to one venue or individual addresses.
For gatherings and events when the government guidelines relax further, we offer a huge choice of fresh, mouth-watering and locally sourced canapes and bowl food to cater for every budget and every taste. Our renowned 'Sumptuous Global Tapas' encapsulate the tantalising flavours of Oriental, Middle Eastern, European and Mexican Cuisine.
Whatever you need, we can supply, from staff to clothed tables to glassware. We will create an utterly impressive and memorable event.
At ChiChi Bites, you will be assured of top-quality catering and superb professional service. Don't hesitate to call us to talk through the requirements for your corporate event.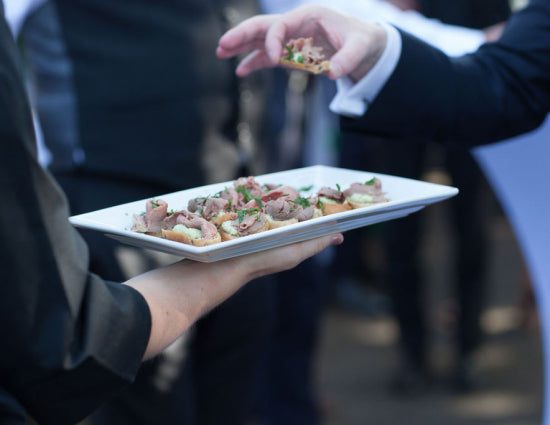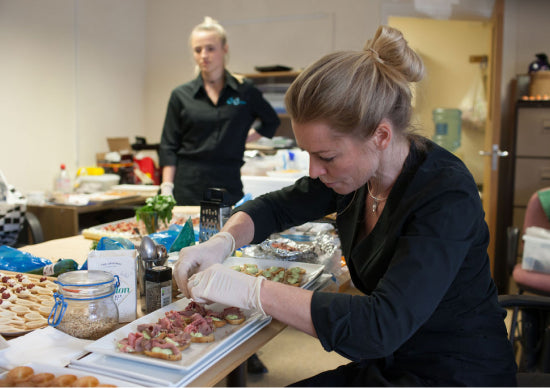 "Our approach has always been to deliver delicious food with outstanding service".
Miranda - Founder Chi Chi Bites
Funerals
A funeral is always a difficult time, and Covid-19 has made it extra difficult to say goodbye. At the time ChiChi Bites can organise your wake or celebration of life when the time is right. Our professional staff are always respectful and understanding in these difficult moments.
We are ideal for gatherings at home, in the garden or even the church hall. We can make all the arrangements and provide everything you need. It's one less thing for you to organise and worry about, and you can spend the time with your friends and relatives.
We will create a bespoke menu of tasteful canapés and light bites tailored to your specific wishes, using delicious, fresh, locally-sourced food along with vintage crockery. If you prefer something hot, that's no problem. Just let us know your requirements. As well as tea and coffee, we can provide wines and other alcoholic and non-alcoholic drinks. Please call and let us help you with ideas and suggestions to suit your budget. We will create a stress-free and memorable occasion for you, your friends and family.
Whatever you need, we can arrange everything, from staff to clothed tables to glassware. We will create an utterly impressive and memorable event.
With ChiChi Bites you will be assured you will be assured of top-quality catering and superb professional service. Don't hesitate to call us to talk through the requirements for your corporate event.